Argentum IT LLC Blog
Argentum IT LLC has been serving the Louisville area since 2010, providing IT Support such as technical helpdesk support, computer support, and consulting to small and medium-sized businesses.
Looking to Make More Sales? Consider Using These Technologies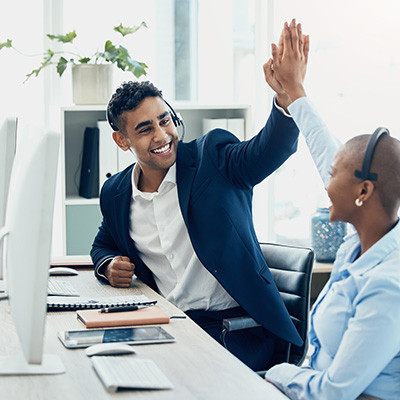 Today's technology can be used to help optimize and elevate just about any of your business' processes, including your sales processes. Let's run through a few examples of how your sales team could (and really should) be using tech to their advantage.
Today's Technology Makes It Easier to Keep In Touch
It's no secret that a lot—a lot—of the sales process relies on effective and efficient communication, and while there's still a lot that a charming smile and a strong handshake can do, there are plenty of tools that can help get you to a face-to-face meeting and beyond.
Take, for instance, chatbots. While once notoriously limited, today's chatbots can be used to help field all kinds of questions from your potential customers and clients, all without the need for direct interaction from your team. In the meantime, your team is alerted to the question and who it is asking it, allowing them to prepare a more customized and targeted response once the chatbot has reached the end of its utility.
As a result, your client is better informed and more receptive to the information you have to share—and that's just one example. There's also the instant messaging platforms, unified communications systems, email platforms, and various other tools that can all prove useful to your sales team and their efforts to engage with your prospects and recurring clients.
It's Also Easier to Keep Track of Leads with IT
Ideally, your sales team will be talking to a lot of people at various points in the sales conversion process. While this is potentially great for your business, it can be a lot for your sales team to manage. Fortunately, there are modern tools that can help.
One that we always recommend is a customer relationship management system. Think of the CRM as a miniature database where you store all of the data surrounding your contacts at every point in the sales funnel—from prospect to loyal client.
There's Data to Manage, Which Technology Can Help You Do
Speaking of this data, its main value comes from the fact that you and your team can use it to better understand and approach your opportunities with the information you need to communicate more effectively with the prospects and leads you're trying to woo. As a result, it is important that you have the means to keep this data organized.
Fortunately, modern tools can help to automate both the management of your data and the analysis of it to make predictions as to the outcomes of different endeavors. With these resources helping you to make better decisions, your clients are ultimately the ones who benefit, as you are able to direct them to better opportunities for their needs.
The Long and the Short of It All: IT is a Great Tool for Sales
Not to push a sale too hard, but our services can help all of your business' technology perform better for your team—including your sales tools—so that your business operates more smoothly and efficiently. Reach out to us to learn more about how your technology can become an even more powerful tool with our help by giving us a call at (502) 473-6407.
Comments
No comments made yet. Be the first to submit a comment